Hello Friends,
Each year the humans on the Iditarod Board of Directors review the rules to see where changes can be made to help make the race safe for humans and canines alike. Brayden and Vivienne noticed that Rule 17 states that "the maximum number of dogs a musher may start the race with is fourteen (14) dogs. A musher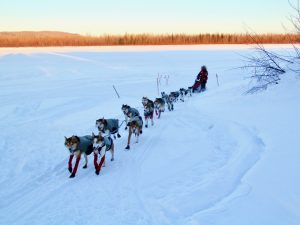 must have at least twelve (12) dogs on the line to start the race. At least five (5) dogs must be on the towline at the finish line." Brayden and Vivienne, you are right, this is a change from previous years where mushers could have 16 dogs at the start of the race. The new rule was brought to the Board of Directors by my veterinarian friend and the head vet of the Iditarod, Dr. Stu Nelson.  With fewer dogs at each checkpoint, it will help all the volunteer vets take great care of my racing canine friends. A full list of the 2019 rules can be found here: Rules   All rule changes are in red.
Aaah-ooooooh! Thanks Brayden and Vivienne for the great question. If you have a question, don't forget to Ask Zuma at askzumadog@gmail.com. 
Tail wags,
Zuma