Hello friends,
It's getting closer – the 49th running of The Last Great Race! Teachers and students from around the world are gearing up by reading books, discovering mushers to follow, and preparing classrooms with maps. Schools and classes follow the race in various ways. Some read the free daily reports to see the progress their mushers are making and watch the free videos posted by the Iditarod. There are a few free broadcasts before and after the race. You can see the schedule here. There are also loads of free education lessons at https://iditarod.com/edu/.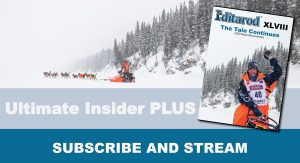 If you want more information, more videos, and the ability to live track the mushers with GPS, you will need to subscribe to the Insider. There are various levels of Insider to choose from. Find what works best for you.
Mrs. Martin's class in Spain had many great questions. One was about the teams running at night. K9s LOVE to run at night! Many of the pawsome dogs have been on the trail in the past and remember where to go. There are also trail markers to help teams stay on track. (They are not typically as close as the picture on the right.) As for the most beautiful part of the trail, Awoooooo!, that's hard to answer. I love the trail through the Alaska Range into Rainy Pass, but that's an opinion. The beauty of Alaska is hard to describe, and I am one lucky dog to live here.
Mrs. Martin, I'll try to get to more of your questions in future posts. If any of you have a question, email me at askzumadog@gmail.com.
Tail wags,
Zuma