Hello Boys and Girls,
I know you already have met Libby Littles, our K9 Journalist, but we know you'd enjoy meeting our sled dog friend, Libby, who now is retire and lives in Indiana with her human and K9 family.   Libby is a very special and talented sled dog.  Just as our Libby Littles touches the hearts of our young readers with her 'little' stories and articles, THIS LIBBY spends time with young children, too.

Lots of Tail Wags,
Zuma
Libby
Formerly from Blue Kennels, Whitehorse, Yukon Territory, Canada
By Joy Davis, Educational Journalist-IN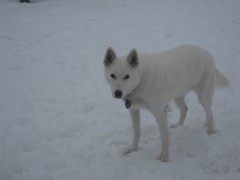 Libby was born in 1999 as a single pup in the kennel of Sebastian Schnuelle. At 8 weeks of age her mother died; Libby took on her mother's name.  She was a natural runner who was easy to maintain in harness.  Libby completed 4 Iditarods (2005, 2006, 2007 and 2008) with Sebastian. As a 9 year old, one week before the 2008 race Sebastian decided to put her on the team.  They finished a very respectable tenth place.  She also completed 4 Yukon Quests (2004, 2005, 2006, 2007) with Sebastian.  Her last marathon event was the 2009 Yukon Quest with Mark Sleightholme.
In November of 2009, Libby made the long flight from the Yukon Territory to Indiana.  She has been the featured guest at Magic Moments Child Care Ikidarod.
Today, Libby is happy living in the house with five other retired Alaskan huskies and a malamute.  While she enjoys playing outside in the snow, she now prefers her pampered life as a pet.