Hello Boys and Girls,
Have you wondered where Iditarod K9 athletes go when they are done with their racing career?  I know you'll enjoy reading about  our good friend Gremlin.   Gremlin is now retired from racing.  I hope you enjoy reading about Gremlin!
Lots of Tail Wags,
Zuma
Gremlin :  Formerly of No Limits Sled Dog Kennel
By Joy Davis, Educational Journalist- IN
With a snarl that would put Elvis to shame, 13 year old Gremlin was born in the kennel of Rick Swenson from a breeding between Rick Swenson lines and Eddie Streeper lines. In 2002 Gremlin ran the Iditarod with Peter Bartlett.  He completed the 2007 and 2008 Iditarods with Bruce Linton.
Of Gremlin, Bruce said, "Oh, if only those soulful eyes could tell the stories that he has lived.  Old Man Grem probably has run more miles than any dog in our entire kennel.  His drive, wisdom, and maturity are incredible."  In 2009, Gremlin and Rosie produced a fine litter of up and coming race dogs.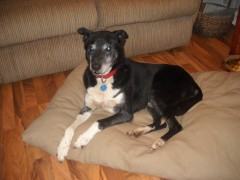 Gremlin now lives in Indiana where he loves to spend his days on the couch.  He greets my return from school each day with his unusual 'voice.'  He maintains an air of class and dignity as a handsome dog who knows that he is still a world class athlete.