Hello Boys and Girls,
We know you like to read about the Iditarod Sled Dogs!  We'd like to introduce you to our friend, Rosie!

Lots of Tail Wags,
Zuma
Where Are They Now?
Rosie, Formerly of No Limits Sled Dog Kennel
By Joy Davis, Educational Journalist-IN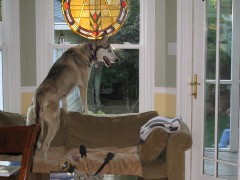 In 2003 when Iditarod veteran Bruce Linton lived in Vermont he purchased Rosie from Dean Osmar.  Rosie gave birth to the second litter of pups that was born in Bruce's kennel.  Bruce stated that when he made the 5500 mile move from Vermont to Kasilof, Alaska, Rosie, who was pregnant at the time, rode shotgun in his truck.  Bruce described her as a true friend and companion.
Rosie has produced many litters over the years.  Her offspring, Giesha and A.D., led Dee Dee Jonrowe to a 4th place finish in Iditarod 2006.  Rosie gave birth to pups that are now the strength and building blocks of No Limits Sled Dog Kennel.  In 2009 she produced a litter with Gremlin; he now resides with Joy Davis in Indiana.  This is a litter that should be followed.  Good things will happen as a result of that breeding.
In the summer of 2010, Rosie retired.  In mid-September she made a cross country move to the home of Tom and Cheryl Mcgarrity in the Chicago area.  Tom said, "Rosie is a very joyful, loving, affectionate friend.  She likes short walks and long car rides.  We feel blessed to have her with us."
Enjoy your retirement, Rosie.