Hello Boys and Girls,
The Iditarod K9 athletes are born to race.  They train, race, and live happy lives.  Do you wonder about the dogs when their racing career is over?  Meet our friend, Otto.  Find out about his life today!
Lots of Tail Wags,
Zuma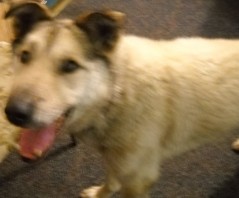 Where Are They Now?  Otto
Formerly of Blue Kennels, Whitehorse, Yukon Territory, Canada
By Joy Davis, Educational Journalist- IN
With the sounds of a Heart CD in the background, Otto started his journey from the Yukon Territory to Indiana in the summer of 2010. I drove to Whitehorse to pick up Otto.  We then traveled throughout the Yukon Territory and Alaska by car.  As I readied for my trip home, I made arrangements for Otto and Toby (from Team Redington Kennel) to fly to Indianapolis as well.
Otto was born in 1997, the second litter that was raised at Blue Kennels, home of Sebastian Schnuelle.  As a race dog, Otto ran in lead and swing.  He completed the Yukon Quest in 2004, 2005, and 2006 along with the Iditarod in 2005. His summers were often spent working on the glacier to keep in shape.  In fact, Otto was filmed in the summer of 2010 for a movie.  He was the lead dog. Not bad for a 13 year old male.
Otto is a sensitive and patient dog who likes a lot of attention. He is the oldest dog in his new family.  He enjoys the quiet lifestyle of retirement which includes car rides, eating raw sweet potato slices, and being close to his 'dogmama.'  He is such a sweet dog and I can't imagine my life without him.