Hello friends,
Schools around Alaska and the Lower 48 are closed due to the Coronavirus. This is a health safety issue that
can't be helped. Here at Iditarod we worried about our volunteers on the trail as well as the people in the villages. Checkpoints were adjusted to reroute teams around the villages and the checkpoint of Shaktoolik asked that mushers not stop near their village. (Click here for a great article about that from the Alaska Daily News.)
Since no new volunteers are being flown in, they are trying to shuffle the people already there. Iditarod has the most incredible volunteers! Everyone is trying to make this best of this situation. Teams as well have had to readjust schedules especially with the closing of Shaktoolik. The fact that the race continues is what makes it "The Last Great Race".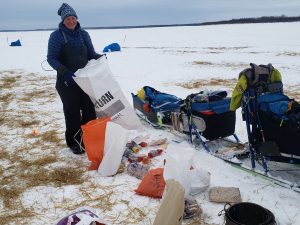 Teams are heading to Nome and the final checkpoints. KEEP WATCHING! This will be an exciting finish!
Tail wags,
Zuma