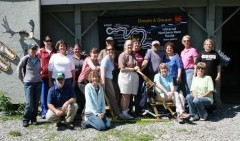 Were you one of the very lucky students whose teacher went to Summer Camp for Educators and Race Fans? Handler works as part of the camp staff and we're always anxious to hear stories and see pictures of camp and activities. The twelve participants enjoyed a wonderful experience and will bring exciting new ideas using the Last Great Race as a theme to deliver standard's based curriculum to their classrooms. I'll do my best to summarize the summer camp experience as told to us by handler.
It seems to me the coolest part of summer camp is that it includes four days of real hands on kennel life! While at Dream A Dream Dog Farm, the teachers enjoy Bed & Breakfast accommodations while learning mushing strategy, participating in dog care and walking the puppies. Puppies are so WONDERFUL!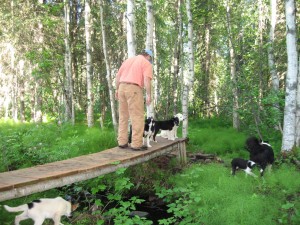 This year's batch of pups was a combination of two litters – 6 cuties born at Dream A Dream and 3 adorables from a litter shared between DeeDee Jonrowe and Melissa Owens. Handler showed us pictures – those pups are going to be handsome, strong, intelligent sled dogs when they grow up.
Walking with nine puppies is pure craziness but it's part of their training. The pups run down the trail then off into the woods and pretty soon they're all back on the trail, underfoot, nipping at any exposed shoelaces or pants legs. The only time the puppies weren't full go was while crossing the little footbridge – they would have been happier to slop through the creek.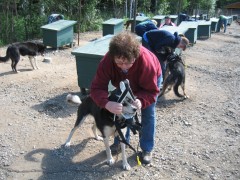 After the morning puppy walk there's more excitement. Your teachers learned how to harness the dogs and hook them up to the gang line for a training run along the local trails, over hills, through wonderful mud and out to the local gravel pit where the team takes a break for a drink of water before returning to the kennel and then it's time for the dogs to eat breakfast. The dogs love being served by the teachers! There's a saying about what goes in must come out. That applies to sled dogs too – there's a little cleaning up to do. Well let's just be honest – there's poop to scoop! Then every single dog gets a big love up from the teachers or from Vern Halter, the musher-owner of Dream A Dream Dog Farm.
Then it's time for the teachers to learn and share ideas about using Iditarod in the classroom. They heard from past and present Teachers on the Trail, the saw great powerpoint presentations that brought the trail to life, they listened to mushers talk about their sport and their dogs, they listened to volunteers speak about working in the checkpoints along the Iditarod trail. Their final activity at the kennel was to create a strategy for Bob Storey, the New Zealand musher who'll be running a team of Halter dogs in Iditarod 2011. The teachers were given pertinent information. Then they were asked to select the checkpoint where Bob should take his 24-hour mandatory rest and to create an eight-hour on, eight-hour off schedule. Just like your teacher requires with math problems, the teachers had to show their work and explain how and why they chose the spot for the 24-hour rest. Keep an eye on the race stats to see where Bob takes his long rest and see how close he sticks to an eight on, eight off run/rest schedule. Better yet, maybe you'd like to try this activity in your classroom before the race gets underway and see how your strategy compares to Bob's.
The teachers spent the final few days of the conference in Wasilla and Anchorage. The teachers learned about Native Alaskan arts, artifacts and cooking. They visited Iditarod artist, John VanZyle's studio and ventured to the Alaska Native Heritage Center. DeeDee Jonrowe, Pam Flowers and Dr. Stuart Nelson spoke to the teachers. How cool to hear from DeeDee who is the most popular musher of all time, from Pam who has gone 2,500 miles solo with her dog team across the Arctic Ocean and from Dr. Nelson who coordinates the veterinary care for the athletes.
The educators also attended the volunteer and musher sign-up event at Iditarod Headquarters. Yes indeed, they rubbed elbows with veteran mushers Lance Mackey, Mitch Seavey, Martin Buser, DeeDee Jonrowe, GB Jones, Ray Redington Jr, Rick Swenson, Aliy Zirkle, Ellen Halverson, and Mellisa Owens along with rookies Bob Storey, Cain Carter, Angie Taggart and Justin Savidis. The teachers were so busy collecting autographs from mushers and talking to the volunteers that were being honored at the picnic, they hardly had to time to enjoy the great food provided by the Millennium of Anchorage. Why don't you go to www.iditarod.com and read the biographies and check the race archives for information about these and other mushers.
If your teacher hasn't attended either the summer of winter Iditarod Teacher's Conference, make sure they read this story. Take it from me, Sanka, they'd say it was the best professional development activity they've ever taken part in and as students, you'd reap the benefits of their Iditarod immersion experience in Alaska.
Born to Run,
Sanka
PS
Learn more about summer camp for teachers by clicking here and going to the website article.
There will be a Winter Conference for Teachers, too.  Follow this link to learn more about attending that conference and seeing the start of the 2011 Iditarod.