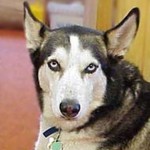 Hello Boys and Girls,
Woof, woof, howl!!!!!  Wait to you hear the news!
Just the other day,  I was chatting with my friend, Zorro.  You remember Zorro, don't you?  Zorro  is a very famous lead dog belonging to Lance Mackey.  Zorro is the father and grandfather to many of Lance's champion K9 athletes.  Well, Zorro said, "Howl would you like to meet a good friend of mine from Pennsylvania, Blaine, the Malamute?"
You know how curious I am, boys and girls, and you know how I love to meet as many humans and K9 friends as I can, so I sang a good long howl song to let Zorro know how happy I would be to meet his friend!  Before I knew it, my paws were typing on the key board and Blaine and I were sending email messages back and forth to each other!   I have to tell you that I got so excited when I heard about a special project Blaine was involved in so I decided, no one could tell it like Blaine!  So friends, wag your tails and howl with me, and say hello to my friend, Blaine.
Lots of Tail Wags,
Zuma
************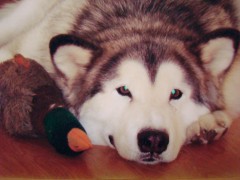 Let me introduce myself! Your great friend Zuma asked Zorro (his fellow Alaskan husky at Comeback Kennel) to get in touch with me – a big Alaskan malamute in Pennsylvania – so I could tell you about some neat things we are doing down here to support the Iditarod.
Now we're not exactly like folks up in Alaska! We don't have piles of snow, frozen rivers  or dog trails all over the place! I myself have not pulled a sled for years!
But there's one thing we do have! Ice skating rinks! You may know a lot of sled dogs in Alaska, but I'll bet you don't know ONE ice skating dog! That's me!
It all started with my "human mother". Janet is a professional ice skating coach, and runs the programs at a rink in Bethlehem, Pennsylvania. Whenever she goes to the rink, of course, she takes me along. What better place for an Alaskan dog than a freezing ice rink! At first I would just lay at the doorway to the barrier, with my head out on the ice! It felt so good! Sometimes I would fall asleep there, dreaming I was in Fairbanks with my head in a snow bank! The skaters would all be careful that they didn't skate over my head!
The only thing better was when the Zamboni would scrape the ice, and then dump a big pile of snow outside the rink. I would dash out, climb the snow pile, and howl, pretending I was in Alaska, howling at the moon!
And then one day, things changed! My skating friends decided that I should skate with them! At first I thought this may not be a good idea! I was a DOG! But the more I thought about it, it wasn't toooo bad an idea!  I was low to the ground, I had four legs instead of a  human's two, and it might be fun being the world's first ice skating dog! Well, after that, it was great being out there, sliding around! I can't say I have mastered a double axel or am going to the next Olympics, but it is fun!
But that's not the best thing at the rink! Because my human family goes to the Iditarod each year, and supports the race and some mushers, Janet decided to have an "Idita-Skate" at the rink! One evening, all the skaters come to the rink. Janet and her husband Walt bring all their Iditarod stuff – books, my harness, pictures, drop bags, their parkas, booties, and lots of stuff from the Iditarod! On the wall is a huge map of Alaska, with the Iditarod trail marked on it. In Anchorage there is a little sled and dog team.
I come into the rink, and howl to announce the start of the Idita-Skate!  All the skaters get on the ice and start to skate laps around the rink! When a skater skates ten laps around the rink, that equals a mile! When they have skated five miles, they come in to me on the side, they have an "Iditarod Mileage Card", and they get one of my paw prints on their card! Then they run out to skate some more laps! We move the sled along the map, from Anchorage to Nome as the skaters' miles pile up! The skater with the most paw prints after an hour and a half gets some great prizes from the Iditarod!
People love dogs! And when they see me, of course, they love dogs even more! And on a big bulletin board, we have pictures of certain dogs that will be in the Iditarod. People can donate money to "sponsor" a dog, and also they can sponsor a checkpoint on the trail. Parents come to see their children skate, and they donate money to the Iditarod too! So each year, a contribution is made to the race from our Idita-Skate!
Now I don't go out and skate the laps, I am too busy inside giving out my paw prints! Those hockey players and others are fast skaters, so I am kept busy! Sometimes there is a break, and I go out and show my talent of sliding around the ice! I wish I could find a company that made little skates in groups of four; we would probably have a lot more dogs skating!
It is really a happy evening for everyone! We have "Hobo Jim" playing in the background – "I did, I did, I did the Iditarod trail!…"…  One year we had Lance Mackey call the skaters during a break, we have a TV showing the Iditarod Insider tapes, and we drink plenty of hot chocolate! Last year I watched the skaters skate 5,300 laps!
The next time I am up to the Iditarod, maybe I will ask Zuma and Zorro to come skating with me! So if someday in March you see three dogs trying their double axels out on the frozen lake in Willow, you'll know it's us!
Your friend,
Blaine
Zuma's friend in Pennsylvania
*************
Oh, Boys and Girls, I forgot to tell you that you can meet and learn more about Zorro at Lance Mackey's website.  You can even send an email to Zorro!  When you do, tell Zorro "howl-o" from me!  Click here.
Lots of Tail Wags,
Zuma