Greetings Fellow Educators!
The month of November signifies thankfulness, and this year is no exception.  It is truly a year to celebrate all that we are thankful and grateful for in our lives, families, communities, and the world. 
I, Sled Dog Ed, decided to get out of the kennel with my friend, Topaz, and took an excursion around our local town observing all that our community had to offer – the natural beauty, the parks, the buildings and the people. Topaz and I enjoyed gazing out the back window of the car and marveling at all the beauty that existed beyond our kennel. Every so often, we were given the opportunity to jump out and explore. At one of our stops, a local park, we noticed a variety of interesting statues throughout the grounds. The two of us looked at each other, wagged our tails, and began thinking. What did each statue represent? Was there a person or event the statue was commemorating? Why was the statue placed at each location? Here are a few examples we found on our exploration at the park.
 Paul Bunyan and Babe the Blue Ox 

 Photo by Nancy Wendt   

Henry "Hank" Aaron

 Photo by Nancy Wendt
In the midst of our dogversation, Topaz reminded me that Alaska has many statues as well. Some commemorate the Iditarod Trail Sled Dog Race in various ways and others represent historical events or people of Alaska.  Topaz pulled out some of her pictures from the great state of Alaska and shared the following statues and sculptures.
Joe Redington, Sr. "Father of the Iditarod"

Iditarod Headquarters

 Photo by Nancy Wendt

Captain James Cook

Anchorage, Alaska 

Photo by Nancy Wendt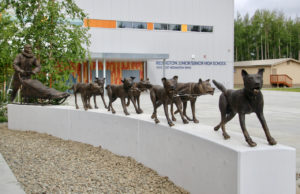 Redington Junior/Senior High School Wasilla, Alaska
Photo by Terrie Hanke        
Sculptures and statues represent multiple aspects of our society and create symbolism. The objects are reminders of what was, what is, and what could be and are important parts of our lives. This upcoming Iditarod Trail Sled Dog Race is a commemorative race; it is the 50th year of Iditarod! Happy Golden Anniversary, Iditarod Trail Sled Dog Race!!! Since 50 years is quite an accomplishment and span of longevity for an event, it seems only appropriate that a statue or sculpture be created in its honor. Here lies the seed of an idea to share with your students.
Pose the following hypothetical situation to your students:
The Iditarod Trail Committee, Inc. would like to commission you to design
and create a statue or sculpture to commemorate the Golden
Anniversary of the Iditarod Trail Sled Dog Race.
Your students can embark on creating a design, making a prototype, and including an explanation regarding the significance of the statue or sculpture. The explanation should include what the design represents, its connection to the Iditarod Trail Sled Dog Race, the location for the finished product and a sample of what could be written on a plaque which would be placed on or near the finished sculpture or statue. 
Students would incorporate art, language arts and writing, social studies, communication and speech, mathematical concepts, and science while working on this project. The project could be modified for younger students by eliminating some of the components and extended to be more challenging for the older students. Encourage the students to do research on various statues, even in your own community, their meanings, locations, materials used, etc. Perhaps you will even have students prepare an oral presentation of their design to the class. It seems the possibilities are endless with this project. Be creative!!!!
Topaz and I wish you and your students all the best as you create a "Statue to Remember…50 Years of Iditarod".
~Sled Dog Ed