One of the things that I love about the Iditarod is how naturally it can be made personal for our students. Each year, the one thing that really hooks my class is assigning a musher for each one of them to follow during the race. We use the Iditarod website to learn about our mushers and get to know them as people, and not just by their names.
I know there are many of us who already do this type of research project with our students and have them make a poster, write a short biography, or create something else to display what they have learned. However, with many school districts still teaching remotely, I wanted to find a way to still offer students the opportunity to complete this activity virtually in a fun and meaningful way. So this year, I will be offering my students yet ANOTHER way to present information about their musher in an interactive and digital way.
Every year, my students are assigned a musher at random; although I do offer them some choice by letting them choose whether they would like to follow a man or woman during the race. I plan to do the same thing this year, but to make it more authentic to the musher's banquet, I am going to have my students pull their mushers name from a boot/mukluk! 
After the students have chosen a name, we begin by completing an informational sheet about our mushers. The Iditarod website is a great resource for this because most of the mushers provide the same set of information about themselves. The students find out where their musher  lives, how old they are, their hobbies/interests, and finally, any additional interesting facts. We also look at the links to the mushers' personal websites (if provided), read about their teams, and try to learn as much as possible.
From there, I have my students make "Musher Flags/Pennants" instead of writing a paragraph or biography. The students transfer all of the facts and information they found during their research onto a pre-cut flag. The flags are all organized in the same manner with regards to how the information is presented, but students can personalize their flags with color, designs, and decorations before they are displayed in the hallway. It really helps to transform this common space into a fully decorated race-ready hallway to get the kids excited before they even step foot into the classroom. 
Depending on time, or for students that finish their flags early, I have them create a Google Slides presentation about their musher. The students love the opportunity to personalize their project by adding pictures of their musher and dogs. Again, this helps to build that connection between student and musher.
THIS year however, I plan to take this project one step further. Once students are familiar with their musher, I am going to have them create a different digital presentation. Since one of our current 3rd grade skills is "point of view", I plan to have each student use the information gathered in their research, and write it from the perspective of their musher. Students will then import a photo of their musher into the "Photospeak" App and record what they wrote from the 1st person perspective. This is a fun project that the kids really enjoy and the end result is really cool! Here is an example I had my 3rd grade daughter help me with – pretending she was Anna Berington. 
https://drive.google.com/file/d/1AqNhFaxfpU423higfjzG1qRcWy7rCyZt/view?usp=sharing
I hope you enjoy this new take on the musher research project!
Check out the full lesson plan for all of these options here: Musher Research Lesson Plan
Connecting with Classrooms:
Here is one for all of you high school science teachers out there! Jo from Washington sent in a great lesson about Global warming and a case study about the impact it is having on the community of Shaktoolik, AK (one of the checkpoints during the Iditarod). Check it out!
I am a full time online High School Biology teacher.  As such I have found that teaching some of the NGSS standards online is tough.  The standard HS-ETS1-2 states: Design a solution to a complex real-world problem by breaking it down into smaller, more manageable problems that can be solved through engineering.  Yikes what to do?
I have created a lesson that involves looking at global warming and climate change. and how it is causing problems for the villages that are along the waters in Alaska.  For this piece, I am just going to look at the engineering part of the assignment.  But please realize that before I introduce this to my students, we have spent a few days pouring over images of maps showing how the ice has melted throughout the years, and they have an understanding of how global warming works.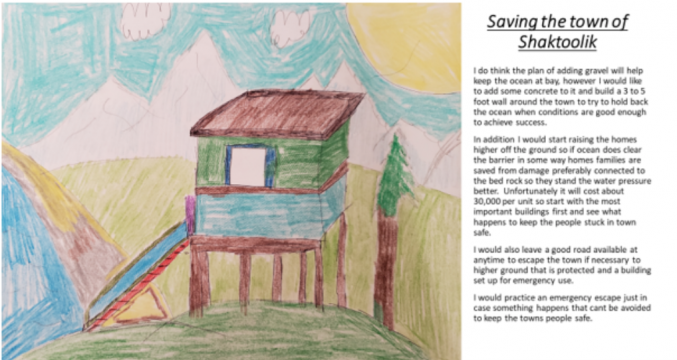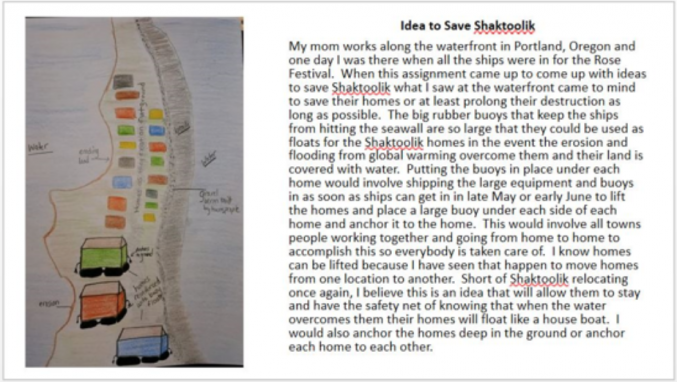 I have used the village of Shaktoolik, but there are other villages in Alaska that are facing similar problems.  Enjoy!
Full Lesson Here: Shaktoolik HS Lesson