Today we traveled to the Alaska Native Heritage Center in Anchorage.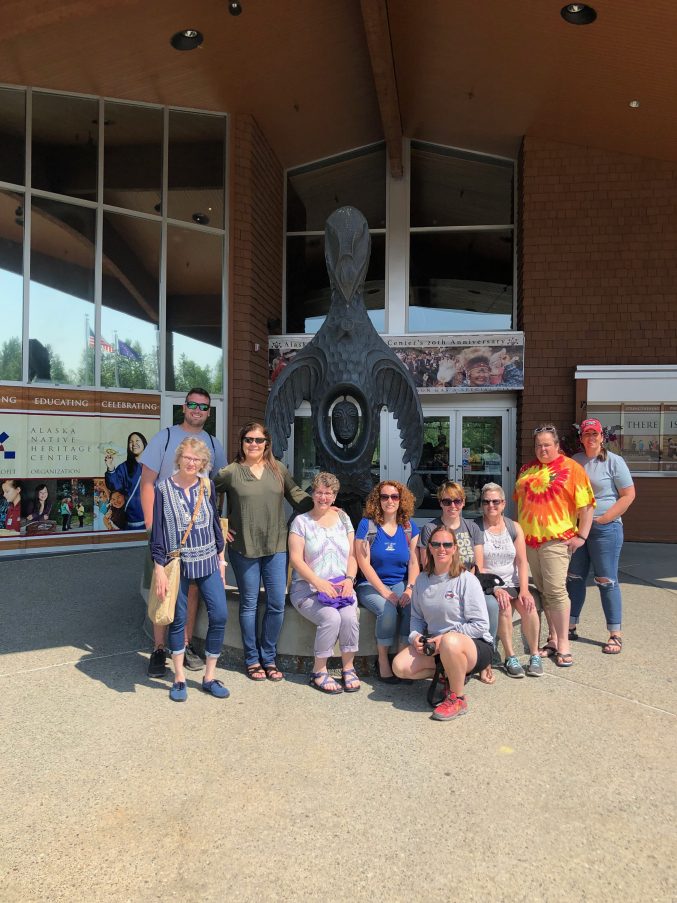 As we walked through the doors, I was immediately drawn to the gathering place in the center of the Heritage Center.  There was a demonstration of the Alaska Native Games beginning.  These athletic games are based on power, balance, and focus.  As the students showed the audience their talents in each athletic event, I was in awe.  Several caught my attention, however, one, in particular, was amazing to me,  the two-foot high kick.  The students jumped with both feet simultaneously and kick a ball suspended several feet in the air. Not only the athleticism was impressive, but also the way the students cheered each other on and encourage each other to try their hardest.
Following the Native Games, was a Native Dance performance.  They performed several dances, each telling a short story. It was interesting to watch their hand and body movements as the story unfolded.  One dance that I enjoyed was called "Carving is as Simple as 1,2,3," It told about carvers in a village, and how they taught the skill of carving ivory and bone to the younger men in the village.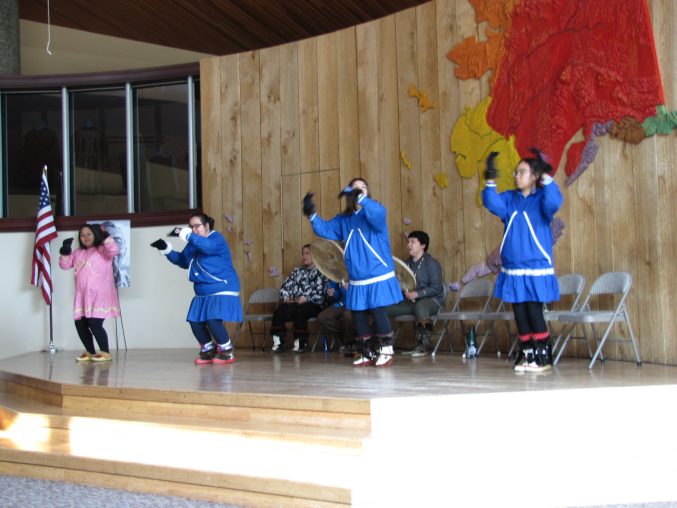 "Alaska is a land of many Native people."  The Athabascan in the Interior, Yup'ik and Cup'ik in the West, Iñupiaq in the North, Alutiiq and Unangax in the Aleutian Islands, and the Eyak, Tlingit, Haida, and Tsimshian in the Southeast.  We walked the Village Circle to learn more about each village site. 
This was truly an amazing trip.  As the visit drew to a close, and we were preparing to leave, I noticed a sign hanging outside the center with a powerful quote embedded in the picture.  It stated, "Show respect to others. Each person has a special gift." Definitely an important message for all.
More tomorrow from Summer Camp 2019!
Teachers- A great beginning of the year activity is to learn and share greetings from around the world. There are so many ways we can welcome our children!
Yup'ik and Cup'ik- Wagee (Greetings)
Inupiaq- Paġlagivsigiñ (We welcome you)
Aleut- Aang (Greetings)
Alutiiq- Camai (Greetings)
Tinglit- Yak' ei haat yigoode'e (It's good that you have come.)
Haida- Tats gwiik (Welcome. Here is the place of honor for you.)
Tsimshian- Ts'lm'wii'amhaw (Greetings)