It's time to start gearing up for the big race on the 6th, and practice using some of the tools that are available! A great way to practice with your students is through the Junior Iditarod race THIS WEEKEND. The Junior Iditarod has a website set-up that closely mirrors the Iditarod website www.jriditarod.com. The site is very user friendly and there is a lot of information available, including junior musher bios, photos from past years from Iditarod photographer Jeff Schultz, a complete list of the rules for this year's race and so much more.
One of the activities that I would suggest is to have your students look at the GPS tracker system used during the Junior Iditarod. This is free to use during the race and provides excellent coverage of the exact location of the mushers on the course. It will give you a glimpse into what you can expect to see from the GPS option during the Iditarod as well. So if you have a subscription to the Iditarod Insider (which I would highly recommend – especially this year), this would be a great way for your students to practice accessing the GPS for the upcoming Iditarod. It is something that I plan to encourage my students to try at home this weekend!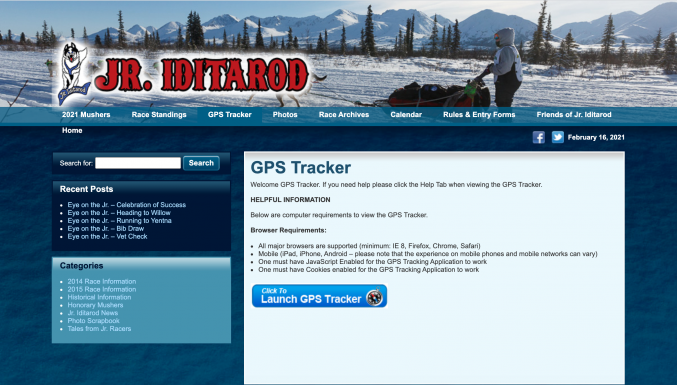 Another connection between the two races are the awards. Much like the big race, there are awards given out during the Junior. Some of these awards are subjective, and voted on by those directly involved with the race. Others are more objective, and are determined by the performance of the mushers. Below is a list of the awards that will be given out.
The Blue Harness – (voted on by mushers) – awarded to the best lead dog from any team
Sportsmanship – (voted on by mushers) – awarded to a musher who demonstrates good sportsmanship during competition
Humanitarian Award – (voted on by vets) – awarded to the musher who provides the best care for their dogs
The Honorary Musher Award – awarded to an individual who has played an integral part in the race
Red Lantern – awarded to the musher who shows perseverance to finish the race, despite coming in last
Rookie of the Year – awarded to the highest placing newcomer
Here are some of the past awards recipients
Teachers: Discuss the differences between objective awards and subjective awards. Talk about connections in your classroom. Maybe even begin giving out a "Red Lantern Award" to your students who show perseverance in their classroom work? Check out one of my previous posts if you are interested in learning more about this! https://iditarod.com/edu/classroom-connections-the-red-lantern-award/