Tails from the Trail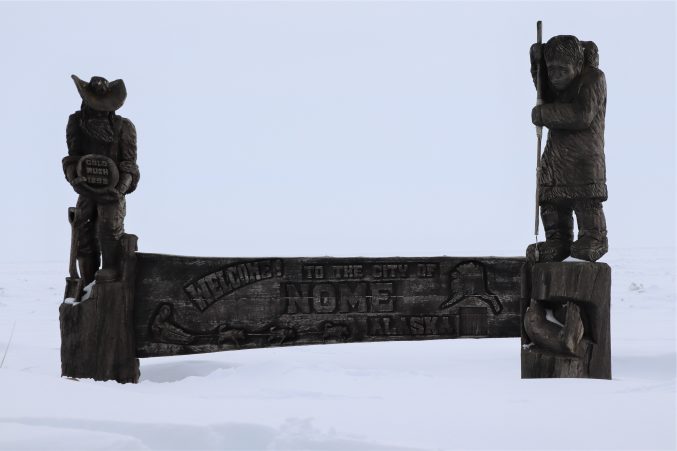 Welcome to Nome! Nome is not only the end of the Iditarod Trail, but it is also a historic town located along the Bering Sea.  With a population of 3576, Nome was once a thriving city of over 30,000 when gold was discovered in the beach sand in 1899. Nome is also known for its 1925 Diptheria outbreak, which leads to the historic Serum Run.  
Meanwhile, on the trail….. Mitch Seavey came into Nome at 6:15 am, giving him second place.  This was his 27th Iditarod, and ironically he wore bib 27.  He has had 18 top-ten finishes and three champion finishes. 
Only an hour and a half later, Jesse Royer arrived in Nome in third.  This was her 18th Iditarod, 8 of which were top-ten finishes. Mushers continued to arrive in Nome throughout the morning steadily.  The mushers who arrive before noon, had the advantage of partly sunny skies, with minimal wind.  The afternoon hours brought the gusty winds, and the snow began to fall, making it a wild afternoon along the ice outside of Nome.  Luckily the wind was coming in from behind versus head-on.
Mille Porsild arrived at 3:43 pm, earning 15th place and the award of Rookie of the Year!  Mille Porsild, a rookie from Denmark, began mushing in 1992. She completed the Iditarod in 10 days, 1 hour, 43 minutes, and 15 seconds.
Teachers:  As mushers continue to arrive in Nome and the end of the Iditarod nears, have your students take what they have learned and reflect about being a musher along the trail. Click here for a journal activity that can either be done as the mushers set out along the trail or as a concluding activity once the students have learned about the challenges and this year's Iditarod.