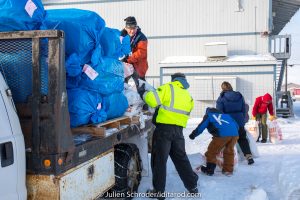 Hi Boys and Girls,
It's been 6 days since the Ceremonial Start.  In just a few days we will have a winner.  I wonder who that will be.  The first 31 teams have all left Grayling and are headed to Kaltag.  It's 132 miles between checkpoints.  The top mushers should get into Kaltag shortly.  Nicolas Petit had a 5 hour lead over Mitch Seavey when they left Grayling.  We'll see if he is able to hold that lead. 
Currently the top 5 are:
Nicolas Petit
Mitch Seavey
Joar Leifseth Ulsom  
Ray Redington Jr.
Peter Kaiser
The Red Lantern Position is:
Tom Schonberger out of Ophir
The Rookie of the Year position is:
Matt Hall is in 13th position and is out of Grayling
Scratched:
Robert Redington scratched in Shageluk in the best interest of his team. 
Awards:
No awards today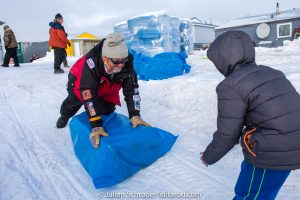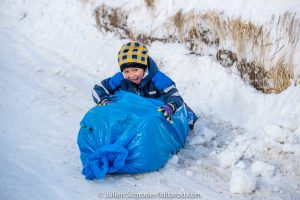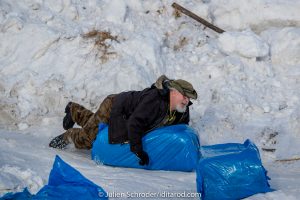 Today's pictures are from Julien Schroder.  They were taken in Unalakleet.  They are preparing for the arrival of the teams.  Here they are unpacking and putting the straw up for the mushers.  Sure looks like fun.  Who knew you could use straw bales as a sled.  Good times for young and old!
See you on the trail,
Gypsy