Hello friends,
It's official! Dallas Seavey has won the 2021 Iditarod. He came in to Deshka Landing around 5:00 AM Alaska Time with 10 dogs in harness. Congratulations Dallas. He was followed a few hours later by Aaron Burmeister, then Brent Sass. All mushers looked tired, and the K9s looked like they could run another 100 miles. They are pawsome!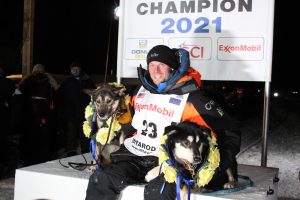 So far 10 of the 46 mushers who started the race have scratched or have been withdrawn. Mrs. Avnor's class would like to know what it means to withdraw. Mushers who scratch have decided they can no longer run the race. It's typically due to concern for the dogs. Withdrawn mushers have been asked to leave the race by race officials. Gunnar Johnson was withdrawn this year after he tested positive for COVID 19 in the village of McGrath where they had a mandatory test site set up. Howl out to you, Mrs. Avnor for teaching about the Iditarod!
Brianna has a question about cellphones on the trail. Up until last year, cellphones and 2 way communication devices were not allowed on the trail. Now, however, according to Rule #35, mushers are now allowed cellphones or satellite phones. With the rerouting of the race this year I'm not sure how they charged their phones, but they are allowed. Thanks for the grrreat question Brianna.
Finally, Carson wants to know how the mushers carry all the food for their dogs. Before the start of the race, mushers put together drop bags that are sent out to all the checkpoints except Yentna and Finger Lake. Each bag can weigh no more than 50 pounds and it is mostly food for the dogs. (Remember – it's all about the dogs!) Rule numbers 47 & 48 give more information about the drop bags. Awoooo! Good question Carson.
There are still many teams out on the trail working hard to get to the finish line. Keep watching! If you have a question, email me at askzumadog@gmail.com.
Tail wags,
Zuma