Hi Boys and Girls,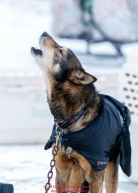 It's Friday!!!! Hard to believe that the Ceremonial Start was two weeks ago. How time flies! Thirteen teams are still out on the trail. It looks like the back of the pack will be in Nome by Saturday. Isn't that great? Let's howl them on! If we howl loud enough, I bet they'll hear us!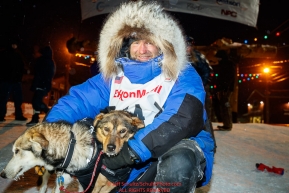 FINISHERS-(since last post)
Jodi Bailey
Larry Daugherty
Geir Idar Hjelvik (picture on left is of Geir in Nome)
Charley Bejna
DeeDee Jonrowe
Gunnar Johnson
Justin High
Dave Delacourt
Justin Stielstra
Next 5-
Trent Herbst – out of Safety
Kristin Bacon – out of Safety
Misha Wijes – out of White Mountain
Zoya DeNure – out of White Mountain
Joe Carson- in White Mountain
Rookie Report
There are 7 rookies still on the trail. Misha Wijes is out of White Mountain. Joe Carson, Thomas Rosenbloom, and Michael Baker are in White Mountain. Jimmy Lebling, Paul Hansen, and Peter Reuter have left Elim.
Red Lantern Position
Rookie Peter Reuter has left Elim.
Scratched
No one
Trail Tales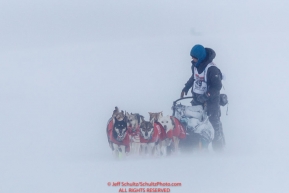 This is a picture taken by Jeff Shultz of Justin Stielstra and his team.  They were on the trail, 5 miles from Nome.  The winds were blowing at 20 mph and snow was blowing across the trail.  Isn't this a great picture? 
Weather
White Mountain- It is 11 degrees, cloudy, with calm winds
Nome- It is 6 degrees, cloudy and 18mph winds
Question of the Day
The teams that have finished are all still in Nome. How come? And what are they doing in Nome?
I'm going back to my computer to watch for updates. Have a great evening.
See you on the trail,
Gypsy