Hi Boys and Girls,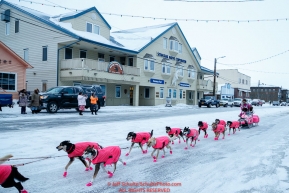 Good Morning! As of 03:01 AST, there are only 8 teams left on the trail. All of them are either in White Mountain or have left White Mountain. My prediction is that all teams will be in Nome by dinnertime tonight! What do you predict?  Who do you think will be our Red Lantern winner.  Look at the updates closely and see if you can predict who will win it.  It's going to be close!
FINISHERS-(since last post)
Trent Herbst
Kristin Bacon
Misha Wijes
Joe Carson
Thomas Rosenbloom
The Final Eight
Zoya DeNure- out of Safety
Michael Baker- out of White Mountain
Matthew Failor- out of White Mountain
Jimmy Lebling- out of White Mountain
Cindy Abbott- in White Mountain
Paul Hansen- in White Mountain
Alan Eischens- in White Mountain
Peter Reuter- in Whiter Mountain
Rookie Report
There are 4 rookies still on the trail. The Rookies have done an awesome job this year. Congratulation to everyone who will be receiving their Finishers Buckle Sunday Night!
Red Lantern Position
Rookie Peter Reuter is in White Mountain. He is only a minute behind Alan Eischens. The Red Lanterns Award is still up for grabs!
Scratched
No one
Weather
White Mountain- It is 4 degrees, cloudy, with 7 mph winds
Nome- It is -1 degrees, partly cloudy with calm winds
Question of the Day
What is the Finishers Buckle and who can receive one?
Answer to previous question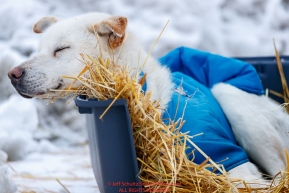 The teams that have finished are all still in Nome. How come? And what are they doing in Nome? The teams stay in Nome until the Finishers Banquet on Sunday night. So what do they do between the time they finish and the banquet? Many will stay with host families in Nome. A host family is a family that allows a musher and their family to stay with them while the musher is in Nome. It is so nice of the people of Nome to open their homes to these mushers. Since Nome is a small town, there are places to eat and things to do. I bet the mushers get together and swap stories of things that happened along the trail. Musher families are also in Nome to greet their loved ones when they finish the trail. So it's a good time to be with family again. I'm also thinking there is a lot of sleeping happening. I bet the mushers are exhausted at the end of the race.
The dogs all have a special place to stay with plenty of straw and food and belly rubs. I mean who doesn't love a good belly rub!
I will update after the last team comes into Nome and we have a Red Lantern Winner. Have a great Saturday!
See you on the trail,
Gypsy