Hi Boys and Girls,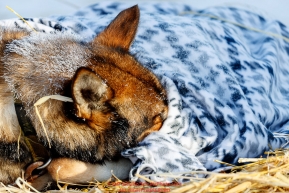 Top of The Mornin' to you! It's a beautiful day for St. Patrick's Day!
Three teams came into Nome last night. Kristy and Anna Berington came in 30 seconds apart. Did you know they were twins? There are 10 more teams that have left White Mountain and should be into Nome this morning or early afternoon.
FINISHERS-(since last post)
Kristy Berington
Anna Berington
Laura Neese
Next 5-
Jodi Bailey – out of Safety
Larry Daugherty -out of Safety
Geir Idar Hjelvik – out of White Mountain
Charley Bejna – out of White Mountain
Gunnar Johnson -out of White Mountain
Rookie Report
The rookies are spread out along the trail. There are still 10 rookies racing. Most are at the back of the pack and some are traveling together. I'm sure they are having a great adventure out there.
Red Lantern Position
Veteran Cindy Abbott has left Koyuk.
Scratched
Roger Lee scratched in Shaktoolik yesterday. He made the decision to scratch in the best interest of his team.
Trail Tales
The Iditarod can be a family affair. Parent and child like Mitch and Dallas Seavey have raced the same year. Siblings have also raced at the same time. These pictures show 2 such families. Pictured is Kristy and Anna Berington, identical twins who are veterans of the race. Also pictured are the Redington brothers Ryan, Robert, and Ray. Ryan and Robert ran this year and Ray is a veteran of the race.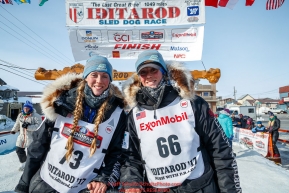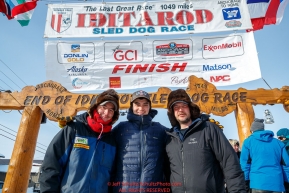 Weather
Elim- It is -4 degrees, fair, with calm winds
White Mountain- It is -3 degrees, cloudy, with 5 mph winds
Nome- It is 2 degrees with a snow shower and 11mph winds
Keep watching. It's going to be a busy day in Nome with many teams finishing. It looks like all teams may finish before the mushers banquet Sunday night. What do you think?
See you on the trail,
Gypsy