Hi Boys and Girls,
The last mushers just arrived into Nome. The final four came in 38 minutes apart. It's been a busy time under the Burled Arch this afternoon. Congratulations to all the finishers.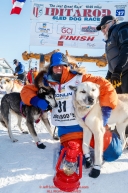 The Red Lantern goes to Cindy Abbott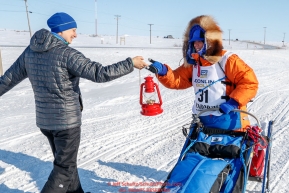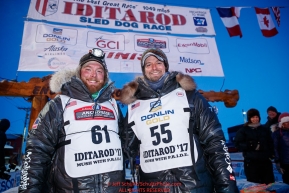 FINISHERS-(since last post)
Zoya DeNure-
Michael Baker- picture on left is of Michael and Matthew. 
Matthew Failor
Jimmy Lebling-
Paul Hansen-
Alan Eischens-
Peter Reuter
Cindy Abbott
Previous question of the day
What is the Finishers Buckle and who can receive one?
Answer question of the day
A belt buckle is awarde to each rookie when the successfully complete the Iditarod. This year 14 rookies have earned their buckle and will receive it Sunday at the Finishers banquet.
I hope you've enjoyed following the race as much as I have.
See you on the trail,
Gypsy