Hi Guys and Girls!
It's Gypsy, and I'm back as a canine reporter!  So many exciting things are happening for us sled dogs and our mushers; I want to tell you about one of them.
For two days in December, all the rookie mushers had a mandatory meeting.  Mandatory means they HAVE TO attend the meeting.  It's super important that these brand new mushers in the Iditarod know the rules. Veteran mushers help train them in how to care for their dogs and themselves on the 1049 miles of COLD Alaskan wilderness. What to bring along on their sleds is also discussed. Dog treats should definitely be packed in the sled!  I like turkey fat rolled in kibble, personally.
A veteran musher, Cindy Abbott, thinks it's really important to attach the ax to the sled so it doesn't accidentally fall off into the snow and get lost!  If a musher loses something required like the ax, he or she must borrow or buy another one in a checkpoint or get disqualified!  Ideas like that can make the difference between a rookie finishing the race or having to scratch, or drop out.
These rookies aren't like puppies, though, with no experience.  They have had to run a LOT with their dogs in long distance races to even qualify for being an Iditarod musher.  None of them have gone on the 1049 mile Iditarod Trail, though, so the rookie meeting is important.  
I'm excited to watch these brave new mushers in the 2020 Iditarod!  Maybe you will pick a rookie to cheer for!
Your faithful canine reporter,
Gypsy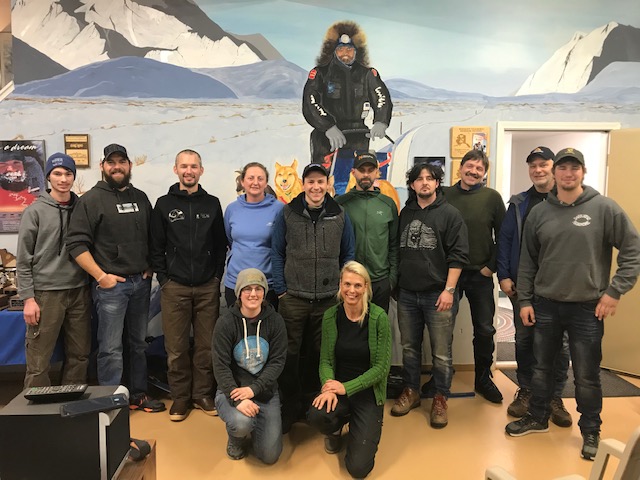 12 rookie mushers will be on the Iditarod Trail!