Hello friends,
What a race . . . what a winner! Pete Kiser and 8 of his canines crossed under the Burled Arch in Nome at 3:40 AM Alaska time to a large crowd of race fans, family, and friends. Pete's good friend and last year's champion, Joar Leifseth Ulsom followed him to the finish 11 minutes later. Aaaaoooooooo! It was a close one. As of this writing 2 women round up the top 4, Jessie Royer and Aliy Zirkle, proving that this race puts everyone on equal paws (footing in human terms). The beauty of the Iditarod is that it's not over yet. Teams will be coming in for a few more days and we will be there to greet them. Keep watching the trackers as your team makes their way to Front Street in Nome.
A.J. and M.B. have a question about what happens to the dogs after the race. After the last mushers cross and the Finisher's Banquet is over, teams are loaded onto planes and flown back to Anchorage while some of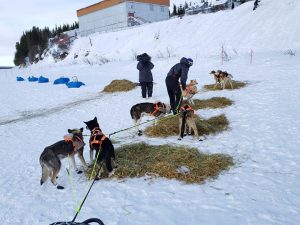 the local finishers will fly back to their villages. We, as dogs, love to run and it's hard to describe the excitement of starting a race, but it's good to be back home with our other teammates for a well deserved rest. Speaking of rest, straw is provided for us at each checkpoint by the Iditarod Committee. Some of my canine friends like the straw, but I personally like to push it aside and make a bed in the snow.
Keep watching race fans!
Tail wags,
Zuma