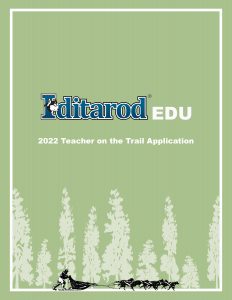 Calling all educators, you are invited to apply for the 2022 Iditarod Teacher on the Trail.  Applications are due December 1, 2020, so it's not too late for you or someone you know to apply.
Note:  Some changes to the application have recently been made, but If you have begun the application process with the previous version of the application, it is being accepted as well.
Download the Lesson Plan template here
Download the Lesson Plan Calendar here
Learn more about the Teacher on the Trail program here. 
For more information, contact Jane Holmes at  jane.holmes@iditarod.com.