Our Virtual Fall Conference this month is focused on technology as teachers around the world are pushing tech to its limits dealing with distance, hybrid, and in person learning, sometimes all at the same time! Technology used by fans, students, and teachers to follow the race has certainly grown and changed over the years. Today, we can essentially follow the race in real time thanks to the Insider and the tracker. But how did it used to be? I remember, when I started teaching in the early 90's, sending students to the school office with my calling card to call the Phone Room in Anchorage to get race updates! This month's primary source dates back even before that. Digital's DECtalk Hotline was used from the mid 1970's to the mid 1980's. Race fans could call the hotline and type in a number to listen to a prerecorded message. Topics included Race Summary, Checkpoint Summary, and Musher Summary. Click on the image to see it in the online museum.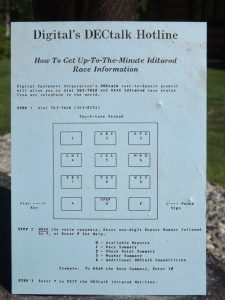 Using the Source With Students
Share the source with your students and allow them time to investigate it on their own. Students could be asked to complete a See, Think, Wonder chart.

Have the students share with a partner or small group their observations, thoughts, and questions

Discuss as a group: What modern technology has replaced this?

What benefits does the tracker have (allows fans to follow the race in real time, is a safety feature for mushers as the help button is included).

Share some of the resources below to investigate the modern trackers.

How has the modern tracker changed the race? Are all the changes good? Does everyone agree with the changes?

As a follow up, students could write an opinion piece or participate in a debate on the question: Has the tracker had a positive or negative impact on the contemporary Iditarod Race?
Associated Resources:
Extension Activities:
Students could use the alpha numeric combinations on the primary source for code making or math review. How many points would the race checkpoints be worth? Their favorite musher's name?