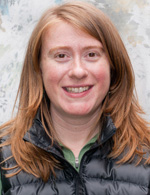 Biography
I grew up and have lived most of my life in Ketchikan, Alaska. I was the first person from Ketchikan to compete in and complete the Iditarod. This will be my second running of Iditarod. I completed the 2011 Iditarod in 13 days 1 hour 49 minutes and 24 seconds. I came in 43rd out of 63 mushers. I had the time of my life and I hope to take what I learned on my inaugural run and improve on my second run down the trail to Nome!!
I have been teaching school for 10 years. Some of the community activities I am/have been involved in are: Master's Swimming, assistant-coaching for the Killer Whale Swim Team, sailing with the Yacht Club, and co-president of Delta Kappa Gamma, a teachers' society.
My dream to run the Iditarod began forming during 2001, the year I was a dog-handler for a musher. In order to qualify to run the 2011 Iditarod, I needed to complete 500 miles in sanctioned sled-dog races. I completed my 500 qualifying miles on April 3rd, 2009.
I am very excited to represent Ketchikan, my home and my community, for the second time in the Iditarod.
Running For Breast Cancer Awareness
This summer my mom was diagnosed with triple negative breast cancer. She underwent a double mastectomy in June and she is going through chemotherapy for the next four months concluding her treatment with 6 weeks of radiation.
This year I will be running for breast cancer awareness, all monies that are not used for my Iditarod 2013 run will be donated to a breast cancer charity of my mom's choice!
Sponsors
Red Dog Saloon
Tongass Trading Company
John& Charlene Taggart
Scott Dossett
South Tongass Volunteer Fire Department/Dragon Slayers

Kristian, Rhonda, Eleanor, Oscar & Jasmine Pickrell
Dr. William Anthes
Jane Vollmer
Starboard Frames
2011 Standings
Checkpoint
Time In
Dogs In
Time Out
Dogs Out
Rest Time
Previous
Layover
Status
Distance
Enroute Time
Speed (mph)
8hr
24hr
Anchorage
3/05 10:37:00
12
Willow
3/06 14:34:00
16
Yentna Station
3/06 18:45:00
16
3/06 18:52:00
16
0h 7m
4h 11m
10.76
45
Skwentna
3/06 23:11:00
16
3/07 06:45:00
15
7h 34m
4h 19m
7.88
34
Finger Lake
3/07 12:17:00
15
3/07 19:17:00
15
7h 0m
5h 32m
8.13
45
Rainy Pass
3/07 23:40:00
15
3/08 08:12:00
14
8h 32m
4h 23m
6.84
30
Rohn
3/08 12:49:00
14
3/08 18:59:00
14
6h 10m
4h 37m
10.40
48
Nikolai
3/09 12:45:00
14
3/09 20:02:00
13
7h 17m
17h 46m
4.22
75
McGrath
3/10 02:18:00
13
3/11 03:51:00
13
25h 33m
6h 16m
8.62
54
Takotna
3/11 06:02:00
13
3/11 06:18:00
13
0h 16m
2h 11m
8.24
18
Ophir
3/11 09:11:00
13
3/11 17:54:00
13
8h 43m
2h 53m
8.67
25
Iditarod
3/12 08:50:00
13
3/12 19:23:00
12
10h 33m
14h 56m
6.03
90
Shageluk
3/13 05:22:00
12
3/13 14:45:00
12
9h 23m
8h 59m
7.24
65
Anvik
3/13 18:05:00
12
3/13 18:16:00
12
0h 11m
3h 20m
7.50
25
Grayling
3/13 21:01:00
12
3/14 06:27:00
12
9h 26m
2h 45m
6.55
18
Eagle Island
3/14 15:08:00
12
3/15 00:20:00
12
9h 12m
8h 41m
6.91
60
Kaltag
3/15 11:45:00
12
3/15 20:30:00
12
8h 45m
11h 25m
6.13
70
Unalakleet
3/16 13:50:00
12
3/16 19:31:00
12
5h 41m
17h 20m
5.19
90
Shaktoolik
3/17 01:56:00
12
3/17 10:30:00
12
8h 34m
6h 25m
6.55
42
Koyuk
3/17 16:11:00
12
3/17 23:39:00
11
7h 28m
5h 41m
8.45
48
Elim
3/18 05:35:00
11
3/18 13:16:00
11
7h 41m
5h 56m
8.09
48
White Mountain
3/18 20:31:00
11
3/19 05:05:00
10
8h 34m
7h 15m
6.34
46
Safety
3/19 12:58:00
10
3/19 13:15:00
10
0h 17m
7h 53m
6.98
55
Nome
3/19 16:49:24
10
3h 34m
6.17
22