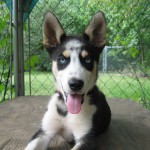 Exercise makes every day more fun! As a sled dog I believe that. I look forward to playing, some call it exercise, but I call it play. I look forward to playing every day. I wish I'd come up with the slogan, "Play 60" that the National Football League uses.
The first play (exercise) that I remember as a little pup was running after handler or musher in the yard. I'd go outside the puppy pen with one of my humans. My human would run a few yards away then stop and call my name. Well I'd dash over there as fast as my little puppy legs would carry me. We did that lots of times every day. I loved running and getting all that praise for coming when called and there were good tasting morsels of food too.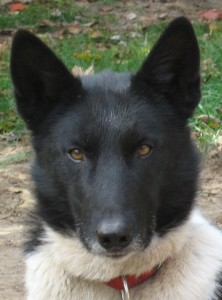 After I was a little bigger, we played a game called "Getting to Know the Other Dogs." I'd get to run lose in the dog yard and visit the bigger dogs at their houses. A couple of the dogs must have thought I was a cat because they weren't very friendly. Most of the dogs would flop over on their backs and let me bite their ears, chew on their tails and wrestle with them. The biggest dog, Blackjack was very friendly!
Finally I was big enough to go on trail walks. I loved all the new sights, sounds and smells! It was hard but when the humans called "SANKA," I'd have to run back to them AFAP (as fast as possible). Then they'd tell me to sit and as soon as I got my bottom on the ground, I'd get a treat and lots of praise for being a good dog. Really, I was better than good. I was GREAT!
Soon enough, I was old enough and big enough to get into harness and run in a small team of big dogs. Even though I was only seven months, my tug was always tight and I was all about running, following commands and pulling with my team on those short runs. By this time Bosca and Trego, the dogs who first thought I was a cat, really liked me and it was fun to run next to them. They call us working dogs but how can this be work, it's so much FUN!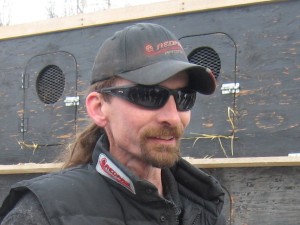 Sled dog athletes train seriously for The Last Great Race, other long distance races and sprint races. It's not uncommon for Iditarod dogs to have run 4,000 miles before they even get to the Iditarod start chute. Take for example Iditarod Champion, Lance Mackey. In 2007, his dogs had done 3,000 training miles before doing the 1,000-mile Yukon Quest in early February. Then only a few weeks later, thirteen of his Quest veteran dogs were running to Nome on his Iditarod team. That year he won both 1,000-mile races as well as in 2008. Even in races, putting on miles improves our strength and conditioning. We are amazing athletes!
Sled dogs are active year round. You might think that after racing during the winter we take a long summer vacation to sit on top of our houses and watch the world go by. WRONG! At Just Guts, we have a huge playpen for summer exercise. It's about the size of five houses. We go into the pen a few dogs at a time almost everyday and sometimes twice a day. Sometimes we play great games of chase or sometimes we just poke around and explore. Oh, we love that pen and having time to play and exercise with our teammates. Up in Alaska at Dream a Dream Kennel Vern Halter hooks dogs to the 4-wheeler and does short runs in the early morning. They stop for water at the half-way point then get to run through a long shallow pool of water on the way home.
As summer turns to fall, we spend more time in front of the 4-wheeler building strength and conditioning. Once the snow comes, we get the sleds out and exercise like we race. We build our speed and distance and soon enough we're doing 4 to 6 hour runs. As training progresses, we go out camping for a couple of day doing several four to six hour runs with similar rests between. When camping, we learn to eat, drink and sleep on straw while in harness. This is not only exercise it's education too. Generally we train two days in a row and then take a day off.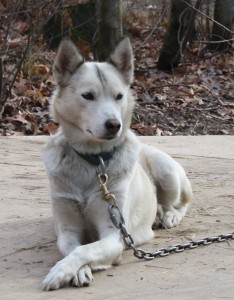 Enough about sled dogs! What about exercise for you and your dog? "Play 60" is good advice! You can play fetch, Frisbee, catch, tug 'a war or hide 'n seek. My friend, Smoke, loves catch while I prefer fetch. You can go for walks or runs or find a safe place to wade or swim. You can go to a dog park to run and play with other dogs but make sure to follow the rules, pay the fee and clean up.
Well there you have it, some information on how important exercise is and how much fun it can be.  Exercise keeps both humans and canines healthy and happy. Activity creates strong and healthy muscles, lungs, bones and heart. It's fun for dogs and it's fun for you. Yes, exercise makes everyday more fun. Your dog will be healthier and happier and will pay you back 100 times for your love and attention.  Get out with your dog and "Play 60"!
Born to Run, Sanka